Memories of Willard Wentzel Reitmeier
In the winter of 1995, Willard Reitmeier was interviewed by German
foreign exchange student Henry Foerster about his
experiences in World War II. Here's the text of that interview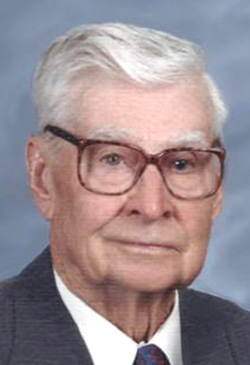 Willard Wentzel Reitmeier, 94, a lifelong Crookston, Minnesota resident, died peacefully late Wednesday evening, January 6, 2010, in the Villa St. Vincent Nursing Home in Crookston.

Willard was born in Crookston on January 14, 1915, one of eight children of the union of Ed and Ida (Wentzel) Reitmeier. He was baptized and confirmed in the Lutheran faith and attended country school near the Reitmeier family farm. He worked on the farm spring, summer, and fall; while winters were spent working at a logging camp near Big Falls, Minnesota, helping out on neighbors farms, and hauling gravel for the county and state.

On June 4, 1941 Willard was united in marriage to Grace Evelyn Myklejord at the Hope Lutheran Church in Fosston, Minnesota. On June 8, 1942 Willard entered the U.S. Army Corps and served during WWII as a crew chief for one of the fighter aircraft. He participated in the Air Offensive of Europe, and the allied offensives in Normandy, Ardennes, northern France, and the Rhineland. In recognition of his service to his country, Willard was awarded the Distinguished Unit Badge, the European-African-Middle Eastern Theater Service Ribbon, and the American Theater Service Ribbon. After receiving his honorable discharge with the rank of Tech Sergeant on November 21, 1945 he returned home.
Willard and Grace settled on a farm in Lowell Township, where they raised two children, John and Jane, and were engaged in farming from 1946 until retirement in 1976. The couple spent summers at Rocky Point on Lake of the Woods, enjoying fishing and social life with family and friends. From 1978 until 1991 they spent part of their winters in Arizona, California, Tennessee, and Texas. Their many travels also took them on bus trips to the Canadian Rockies, Washington, D.C., and Florida. Throughout his life Willard was an avid hunter, both with rifle and bow.
He was a devoted member of Our Saviors Lutheran Church and a former member of the church board. He also served on the boards of Lowell Township, the Crookston Credit Union, and the Farmers Union Oil Company. Willard was a member of Crookston VFW Post #1902 and American Legion Post #20. He spent many hours as a volunteer at the Polk County Museum, and in February of 2002 Willard and Grace were honored as Crookstons Experienced Americans of the Month.
In 2004 Willard and his brothers were the first pioneer sugar beet growers to be named to the Honor Roll of the Red River Valley Sugar Beet Growers Association Museum in Crookston. Sadly, Grace passed away on June 15, 2005. Although Willard was retired for over thirty years, he stayed close to farming. One of his biggest joys right up to the fall of 2009 was his daily inspections of the farm from the seat of a converted golf cart. He planted most of the trees on the farmstead, some as early as 1919, and with Ronny Jaeckels help, supervised the planting of almost 200 more in the most recent summers. He always said you don't plant trees for yourself, but for the next generations.

Grateful to have had Willard in their lives are his son, John, and daughter, Jane, of Crookston, MN; brothers, Marvin (Aldores) Reitmeier, Lloyd Reitmeier, and Mike Reitmeier (Joan Clemenson), all of Crookston; sisters-in-law, Joyce Reitmeier and Millie Regeimbal, of Crookston; Godchildren, Janice Biel of Bemidji, MN, Pat Schmidt of Minneapolis, MN, and Connie Cooley and Gerald Reitmeier, both of Crookston; and many nieces, nephews, and other relatives. In addition to his beloved wife of sixty-four years, Grace, Willard was preceded in death by his parents, Ed and Ida; sister, Meda (Mike) Buness; brothers, Arnold, Edward (Lucille), and Ernie Reitmeier; sisters-in-law, Audrey and Barb Reitmeier; and from Graces side of the family, brothers, Oscar (Viola) Myklejord, Selmer Myklejord (his lst wife, Esther, and 2nd wife, Frances), and Albert and Harold Myklejord; and sister-in-law, Marie (Elmer) Flaten. Blessed be the memory of Willard Wentzel Reitmeier.

The funeral service for Willard Reitmeier will be held at 2:00 p.m. Sunday, January 10, 2010, in Our Saviors Lutheran Church, in Crookston, with the Rev. Steve Bohler, officiating. Visitation will be at the Stenshoel-Houske Funeral Home on Saturday from 5-7:00 p.m., with a 7:00 p.m. prayer service, and also at the church for one hour before the funeral. Interment will be in the Oakdale Cemetery in Crookston in the spring with Military Honors provided by the Crookston Veterans Council.
Pall Bearers include:
Nephews: Ron, Leroy, Michael, Everett & Paul Reitmeier
God Daughters: Connie Cooley, Pat Schmidt & Janice Beil
Great Nephews: Sterren Myklejord, Brian & Kurt Flaten
Ronny Jaeckel
The family particularly wants to thank all of Dad's caregivers and volunteers including, Marvella Epema, Stan Johnson, Donna Neal and all the staff at Villa St. Vincent in Crookston.
Here's Willard and his great niece Halle Halloween 2008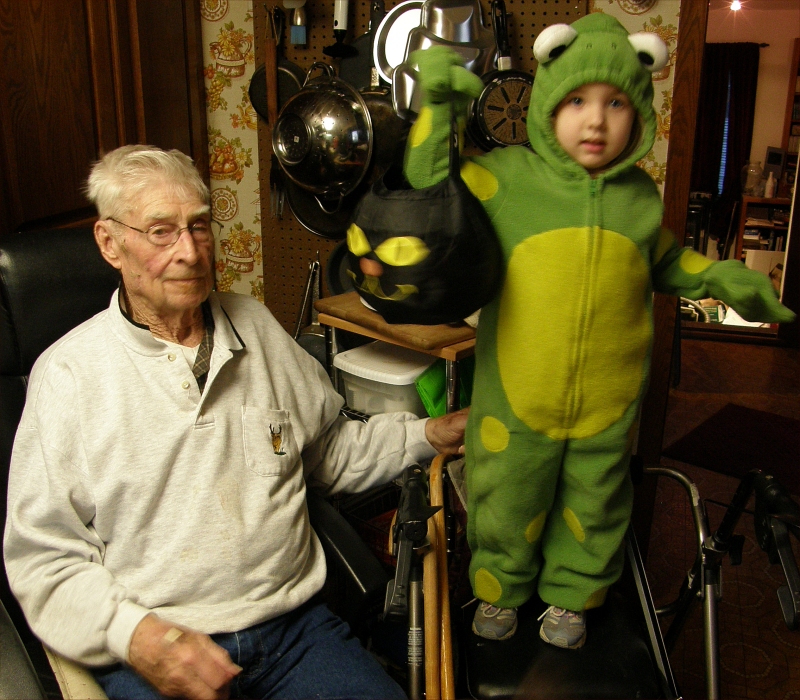 January 18, 2010
If you've been watching the obituary pages for Crookston Minnesota since the turn of the decade, just 18 days ago, we've really had an unusually high number of deaths. I don't believe that there's any cosmic even driving this, just that these "bumps" in statistics come along now and then. So we know that there are many families that are going through the loss of a loved one right now as we are. Some seem to be just the natural course of events, a life well lived that needed an ending chapter, and some are tragic, and accidents, and seem so unfair. Our sympathies to those that are hurting at this time.
We have so many people to thank for providing support, services, friendship, food, transportation, and just being there as a witness to Dad's faith, and their love and respect for him! I'm sure there is a hallmark card that can put the words together in some flowery, touch your heart way, but we just want to say, THANK YOU! Thank You for caring, Thank You for being there for us in our time of need. When you get to be almost 95 years old, many of your peers are gone, or not so easily capable of getting out. Add to that a real Minnesota cold spell, and we sure understand many folks not being able to be with us physically. Yet the Funeral Home was almost full for the visitation and the Church was full for Dad's funeral. If we didn't get around to see you and say thanks personally, I promise it was just that we finally reached "overload" and had to just sit still and listen now and then!
Some people we want to particularly thank, and to record here so that in the years that come we can remember back to these days include (and this list will be growing as I think through the past months...

The Staff and Dr.'s at Riverview Hospital
Dr.'s ____ ____ ____
Everyone at the Villa St. Vincent nursing home!
Jim Myrold, who heads the wing Dad was in, and who gave us great advice, and jumped in at a moments notice!
Nurses and CNA's who lifted, and turned, and changed, and bathed, and medicated, and even spoon fed sometimes. WOW

Jim Bredman and the staff at Stenshoel-Houske Funeral Home

The EMT's in Crookston

The Ride Service that Brought Dad back and forth.